This course is a beautiful initiation + activation of your energy field as a remembrance of who you truly are as a mystic, a medicine woman and a healer. This energetic activation will allow you to gain the tools and ancient wisdom to facilitate moon ceremonies and perform magick and teach you the practice of ritual in honoring the sacredness of ceremony.
With the practice of ritual, we allow ourselves to connect with the infinite cosmic field of consciousness, to create.
Through ceremony we honor our ancestors, the ancestors of the land, ancient traditions and the elements — all of which are sacred.
 Through these sacred practices we allow a deeper connection to spirit.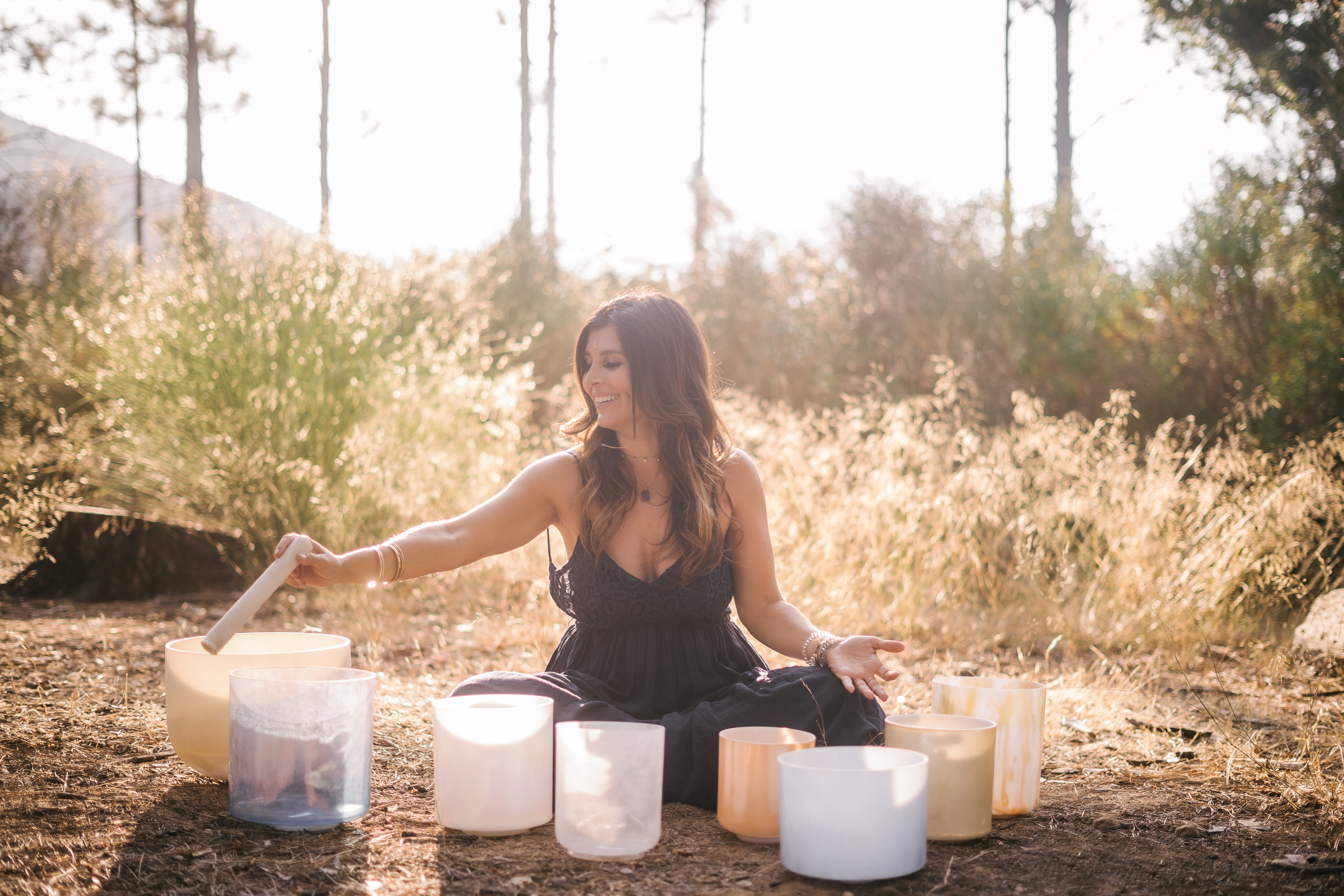 Quantum Sound Healer + Ritual Facilitator - Roxy Ghoraishy
Roxy Ghoraishy is a mystic mama, a medicine woman, a quantum sound healer, spiritual teacher + soul activator. She is the founder of Ceremony Meditation which is a healing and wellness center that was created to support personal transformation, social impact, and spiritual awakening of the collective. The center is a place for self practice of meditation, healing, cleansing, self-growth, teacher ancient teaching and healing modalities, and a Mystery School with training programs for the evolution and transformation of consciousness.
CM has attracted some of the most activated, brilliant healers in the industry all here to bring change to the world. Her background hasn't always been in the wellness industry as she previously owned an escrow company for over ten years, in which she sold her business over five years ago in 2015. During this time, she discovered her passion of sound healing and energy healing modalities, and has found a way to merge her two passions of healing and helping others with her love of business into one to create Ceremony Meditation.
She is dedicated to bringing together community and holding space for the awakening of the collective through transformational offerings to provide the community with the tools to evolve. 
She is the host of 'The journey of Awakening' on Evertalk TV, a show where she shares the journey of those leading a life of purpose and making an impact in our society. In this show she shares the story of what an awakening looks like for the various guests, and the profound shifts that took place in their lives and the social impact they are making to bring change in this world.
She is dedicated to living a life of service, passion + purpose and igniting this flame in others. She has a deep love for sharing ancient wisdom, sacred ceremonies, and works energetically to create space for deep healing and transformation.
She facilitates teacher training programs, retreats all across the world, and workshops to educate leaders in these ancient teaching modalities in order to activate souls to step into their power and highest potential to create alignment with their purpose.
Roxy is part of ALO yoga Mindful masters program, and has led meditation classes at SOHO house, and La Peer hotel . She brought mindfulness and wellness into the hotel boutique industry by curating weekly meditation classes, workshops, and wellness retreats in WEHO at La Peer Hotel for the entire year of 2019.
Intuitive Energy Healer + Ritual Facilitator -Desiree Lanz
Desiree is a multicultural spiritual teacher, intuitive energy healer, holistic wellness guide, writer and model. She is certified as a yoga, meditation and pranayama teacher, Reiki Master Teacher and advanced Akashic Records practitioner. In addition to drawing from an undergraduate degree in Psychology, she holds an M.A. in Online Journalism and fuses her paths in media, science and metaphysics to birth platforms of support, connection and motivation as we work with our light and spread it in our own authentic and irreplaceable ways. She believes that through the flow of communication — writing, reading, learning, sharing, creating, and constantly opening — we can heal ourselves and the world and transform increasingly into more fulfilled, present and loving versions of ourselves. Her sessions and workshops encourage students to play, let go, expand and elevate through empowering and healing experiences designed to be both fun and profound. They faciliate an exploration of our inner world, a clearer perception of our innate wisdom, a release of stuck energy, the unlocking of our gifts and the manifestation of our intentions through working with our physical, etheric, emotional, mental and spiritual aspects. Desiree uses her life experience, knowledge, empathy, intuition and divine guidance to promote a safe environment to experiment and evolve.